InternetNZ electoral system (explanation)
InternetNZ uses the following process to conduct and count InternetNZ Council elections and officers' elections. This process does not apply to referenda.
Approach
The approach used is a form of STV (single transferable vote), which is also called choice voting.
An elected candidate generally has more votes than the minimum needed for election – this called their surplus. STV reallocates surplus ballots from elected candidates to their next preferred candidate. STV versions differ in how they select surplus ballots for reallocation. The method used by InternetNZ transfers all ballots to their next preferred candidate on a fractional basis, rather than transferring a selection of ballots at their full value. This is sometimes called the Gregory method. It is used in elections for the Australian senate and for the senate and parliament of the Republic of Ireland. The detailed counting process used is set out in Schedule A to this paper.
This approach is consistent with InternetNZ's constitution which requires that council members and officers are elected using a preferential and proportional system. All forms of STV are preferential because voters rank candidates in order of preference. The version used by InternetNZ provides for proportionality through the fractional reallocation of ballots, which provides for second and later preferences to play a proportional role in electing candidates and avoids the element of randomness or bias that would be present if individual ballots were somehow selected for transfer.
Elections
Regular elections
Council and Officers' elections are held regularly.
Council elections are, in general, for multiple seats. These elections are counted by the preferential and proportional vote counting process described below. A single counting process is performed to fill all vacant Council seats at the same election.
Where the vacant Council seats have different term lengths vacant seats are allocated to successful candidates in decreasing term order, i.e. the seat with the longest term is filled by the first candidate elected, and so forth.
Officers' elections are conducted individually using the process below.
Casual vacancies
If an elected council member or officer resigns or is removed during their term of office, InternetNZ may opt to fill the position as a casual vacancy either through a by-election or by counting back the previous election.
Counting back means re-counting the ballots from the previous election with the resigned or removed candidate marked as withdrawn, and with any defeated candidates who no longer wish to stand also marked as withdrawn. This will take account of the second and later preferences of voters for the resigned or removed candidate.
A council member or officer elected between regular elections to fill a casual vacancy will serve the remaining term of the resigned or removed candidate. This partially served term will not count toward any term limit should they be re-elected.
If a sitting or newly elected council member is elected to an officer position they are deemed to have resigned as council member and this process applies.
Returning officer
The returning officer is nominated and approved by Council. They are accountable to ensure that the process set out in this paper is followed. The returning officer determines the validity of nominations, supervises the election and declares the outcome. InternetNZ may contract out the administration of parts of the election process under the supervision of the returning officer.
process
The election process consists of four consecutive phases: pre-election, voting, counting and declaration.
Pre-election
The returning officer advises electors of the election process and dates and the number of seats to be elected. Candidates are nominated and their validity checked by the returning officer, who distributes to electors a list of candidates and any statement each candidate chooses to make.
Voting
InternetNZ distributes voting credentials to electors who use these credentials to cast their ballots by ranking the candidates.
Each elector receives a ballot that lists the candidates in random order. Electors rank the candidates in order of preference. Electors must rank at least one candidate.
There is no provision for write-in candidates.
There is no provision for informal or 'spoiled' ballots.
Counting
Ballots cast are analysed to produce an outcome using the process set out in Schedule A.
Scrutineers satisfy themselves that the counting has proceeded in accordance with this process. Once satisfied, they sign the documentation showing the progress of the count and its outcomes.
Declaration
The returning officer makes a formal declaration of outcome based on the results of counting and scrutineering.
Schedule A: counting process
Ballots are counted using STV with fractional transfers. The exact method is set out below. The counting process comprises preliminary steps followed by a series of 'rounds'. Each round is a series of steps after which a candidate is declared elected or a candidate is declared defeated. Rounds continue until candidates are elected to fill all vacant seats.
Preliminary steps
These steps are conducted once only at the start of the counting process.

Counting a round
Counting continues through a number of rounds, described below.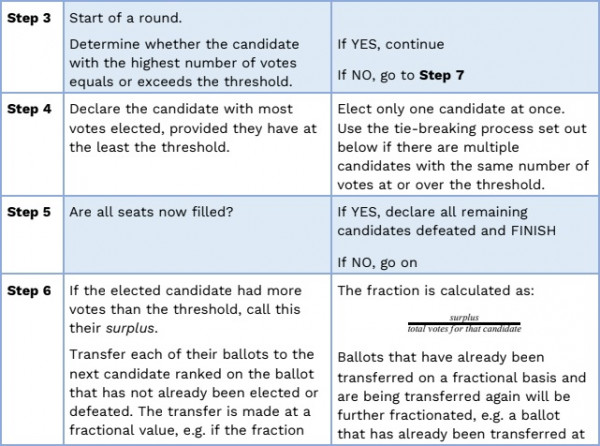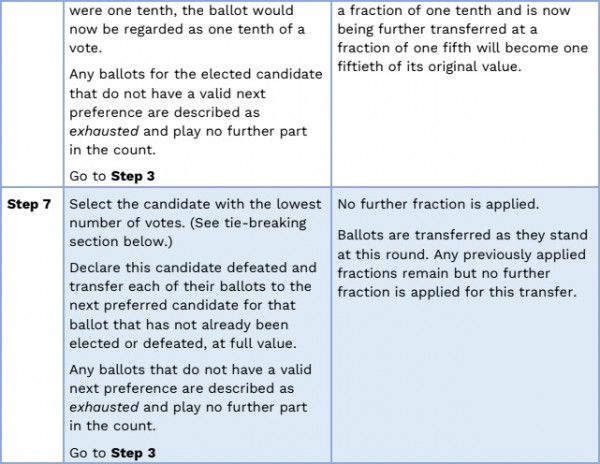 Tie-breaking
Ties can arise in two situations: when determining a candidate to elect; or when selecting a candidate to defeat. In both cases, their relative standing in the previous round (if any) is considered and, if it is needed to distinguish them, the round before, and so on. In the very unlikely event that this process cannot distinguish a winner and loser, a random choice will be made.