Malware. Ransomware. Phishing. Botnets.
Four words your customers don't want to hear. With cyber threats and attacks growing every day your customers need protection against a range of threats.
The strongest defence is a layered approach to security. No single cybersecurity product is 100% effective by itself but the more layers you can offer your customers the stronger their security will be.
A Domain Name System (DNS) firewall is a layer in addition to your traditional perimeter protection. It's essential to strengthening your customers' defence against existing and new threats.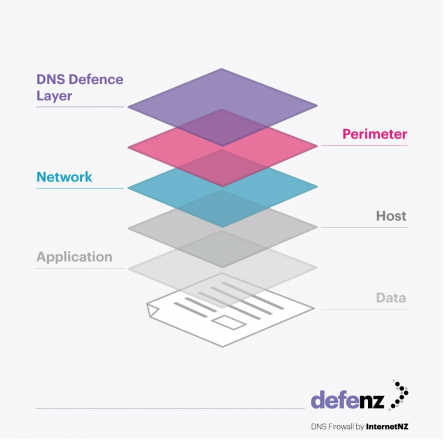 How a DNS firewall protects your customers
The DNS is involved in almost every action on the Internet. People enter a domain name and the DNS finds the right IP address.
A DNS firewall kicks in when a device tries to resolve a domain name to an IP address. If that site is on the blacklist of malicious sites the firewall prevents your customer connecting to it.
Defenz DNS Firewall is built for New Zealanders
We've built a DNS firewall for Kiwis.
The Defenz DNS Firewall combines New Zealand Hosted DNS infrastructure, Canadian hosted controller systems and local and international threat feeds. It lets your customers enjoy the power of the Internet with confidence.
Our Defenz DNS Firewall adds a cost-effective and low-maintenance layer to your security strategy by:
monitoring and analysing DNS traffic

keeping a blacklist of known harmful site

preventing your customers connecting to those sites

preventing phishing attacks
Defenz can even stop malware already on your network from accessing the Internet.
Help your customers boost their security
Defenz DNS is a business-to-business service available via Internet Service Providers (ISPs) or Managed IT Service Providers.
You choose how to package it for your customers:
a value add service on top of those you already offer

promoted as a service to attract new customers

a retention offer bundled into current packages.