InternetNZ and Product Development
David Morrison •
Come on a journey with us
Welcome to the first in a series of posts about our efforts to grow and diversify revenue that enables us to better help New Zealanders harness the power of the Internet.
Product development has been around for a while at InternetNZ. Our most successful product (separate from .nz) is the National Broadband Map. But we need to be moving faster. With the merge of InternetNZ and NZRS operations in early 2018, a new specific Commercial function was created to spearhead our efforts to grow and diversify revenue for InternetNZ. Increasing diverse revenue will allow the organisation to better deliver on its mission of an Internet that is open, secure, and for all New Zealanders.
Essential to the diversification of revenue is the creation of new products. To enable this outcome we have developed an innovation pipeline.
The purpose of our innovation pipeline is to have a suite of consistent processes and activities through which to evaluate and progress ideas into operational business models. The underlying philosophy of our exploration and validation of ideas can be summarised as:
move fast
experiment and validate
learn from failure
deliver value to customers.
A key objective of taking a process-oriented approach is to focus on our goals of deriving new revenue rather than to lock on to a specific idea. Ideas will progress or stop due to the processes providing sufficient information to confidently progress. This process also allows us to transparently prioritise and re-prioritise if conditions change.
You can read more about our commercial process in our February paper to Council.
What can you expect from us?
Over the coming year you can expect regular updates on what we are exploring, the techniques we are using, lessons learnt and ideas we are considering to build and launch.
Do you have a great idea that you think InternetNZ would be well positioned to deliver? If so, get in touch with David@internetnz.net.nz.
We're thrilled to have you on this journey with us.
Our Innovation Journey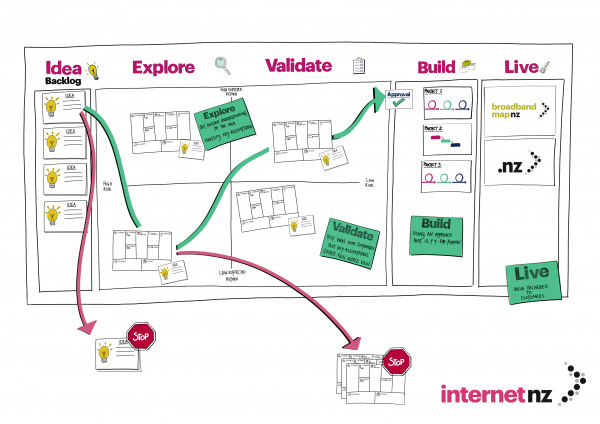 | Stage | Description |
| --- | --- |
| Ideation | Ideas can come from anywhere and anyone. Prioritisation of ideas will be based on answers to a consistent set of investment criteria questions. Strategic alignment will be key. |
| Exploration | At this stage, we aim to have 1-3 items that are progressing at any one time. The objective here is to deepen our understanding of the opportunity and determine what our key assumptions are that would need testing. We utilise a business canvas as consistent tool to develop our thinking. We are big fans of the Business Canvas. |
| Validation | This process tests a business idea with a customer market segment(s). The purpose is to test key assumptions from the exploration stage and gather a real-world response to what we believe is the value to the customer. |
| Business case | The business case is a document to be tabled for approval prior to progressing to build and launch. It draws on the validation work and describes our understanding of Desirability, Feasibility and Viability for the product. |
| Build and launch | Through focussed development, we get a service to customers as quickly as possible allowing real-world feedback and generation of revenue as quickly as is practical. It is proposed that in parallel to the build activity pre-sales activity and launch planning would be underway to ensure the target market is aware of the service and sales can follow directly after launch. |