Literature scan: sharing some reflections
Ciara Arnot Senior Community Advisor •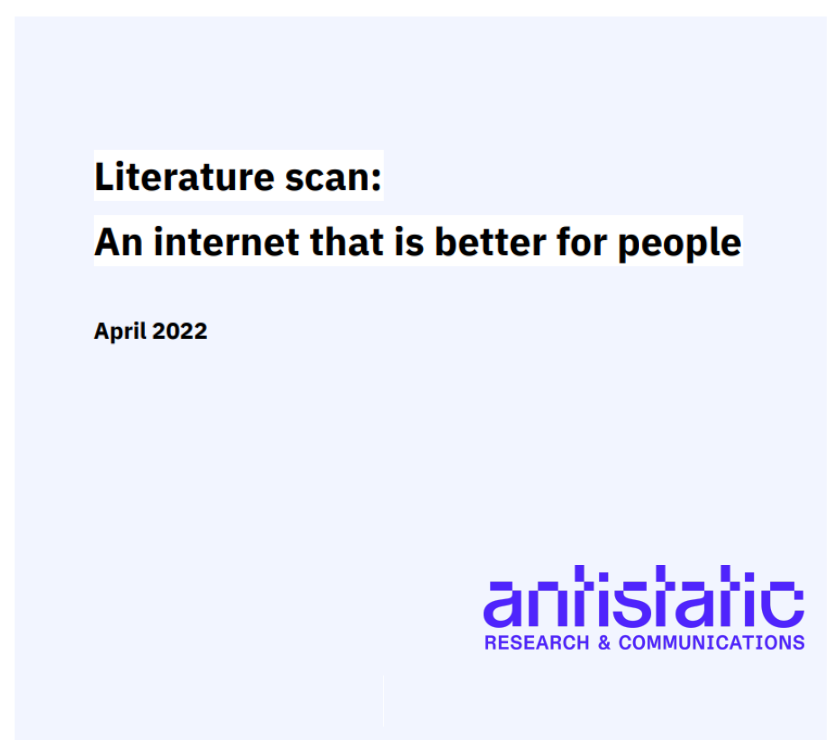 Some reflections on the Literature scan.
We want to be part of making an Internet that is better for people.
To make sure we are listening to people as we figure out what this looks like in practice, we have kicked off a research project, partnering with Toi Aria and Making Everything Achievable. Right now, they are busy having deep dive conversations with diverse communities across Aotearoa so that we can understand the concerns and opportunities of many different groups.
But the kick off of this work involved a literature scan. The fabulous team at Antistatic pitched in on this piece of the puzzle, and it offers useful insights that serve to guide the engagement phase currently underway.
Plus, a literature scan provides some context for anyone interested in understanding the current state of play, in terms of what research has already been done around a better Internet.
This includes, exploring the language used to talk about the Internet, 'blue sky' thinking about desired futures, surfacing underlying values and of course, reflecting on what communities have already said on related issues.
It sparked some great discussion amongst our team and we wanted to share some reflections:
NZ Work Research Institute, AUT
Should digital spaces and people's use of them be changed in ways that serve the public good? Those that agree with this sentiment report that fixing social media algorithms is the 1st thing that needs to be achieved.
This is just one of the many findings highlighted in the new literature scan funded by @InternetNZ which intends to generate ideas on how to make "an internet that is better for people".
These findings, along with others highlighted in the report, are consistent with the World Internet Project NZ 2021 report, which found that almost 60% of respondents believe that social media companies like Facebook, Twitter and TikTok ought to be more strongly regulated than they are now, and 30% of respondents believe that these companies have made the world a worse place.
Jodi Anderson, Acting Policy Director
One part of the lit review that really stood out for me was the summary of a 2021 consultation on online harms and young people. The research focussed on the negative impacts of online continent and interactions, but many of the young people consulted were keen to point out the positive impacts of the Internet as well as the harms.
The researchers laid out 4 principles for a "good" Internet, based on what they had heard. One of these (the "opportunities" principle) says that the public should not just be asked about harms, but also about how the Internet could better serve them:
"When we talk about a 'good web' it shouldn't be just about the desire to create an online world where we're preventing people being exploited, harmed or exposed to things they shouldn't be. It should be about more than surviving online – it should be about thriving online."
This resonated with me, and I'm really hoping we get some insight on this idea from our research. We don't just want to understand what an Internet looks like that doesn't harm, we want to understand what an Internet looks like that benefits people.
Laughton Matthews, Senior Advisor, Māori Outcomes
Working at Internet NZ | Ipurangi Aotearoa I am deeply passionate about effecting and realising equitable outcomes for Māori, and exploring new horizons for Māori in the Internet space.
It is wonderful to read about ways that we can effect change and help contribute to aspirations of Māori. I keep coming back to this quote on page 22, "an internet that is better for Māori is an internet where te reo Māori is visible."
This makes me really excited about our research and envisioning of what an Internet for Good looks like for Aotearoa and beyond.
Ciara Arnot, Senior Community Advisor:
Working at Ipurangi Aotearoa, I felt myself having an aha moment when reading on page 7, that the te reo Māori word for the Internet has whakapapa back to "the source of a stream".
It makes me think that the Internet epitomises the old story of the philosopher Heraclitus by a stream. The idea that you can never stand in the same stream twice and that the only thing that is constant change.
As we work towards a better Internet, we must be aware that we may never fully wrap our heads around the constant shifts and changes of what goes on in the online world but it is always worth learning from the past so we can build a better future.


Check out the full literature scan
On the research project page, we have a PDF and word version of the literature scan available
Please let us know your thoughts by emailing PublicImpact@internetnz.net.nz