Our 2022 plan was prepared alongside a refreshed strategic framework for InternetNZ. This plan highlights the significant strategic commitments we will make in achieving our strategy in the next financial year — 2022-23.
This is an exciting time. We have organised this plan around the four strategic rei kura — treasured teeth — that are the focus of our work. In each area, we describe the piece of work involved and explain the strategy and goal it contributes to.
Throughout our work, our biggest goal is impact — for the people of Aotearoa, for our members and partners, and to protect and honour our responsibility of being the home of .nz.
A primary focus for our whole organisation is the successful conclusion of the registry replacement project, with current plans seeing the cutover to the new InternetNZ registry system in August. This is our first priority, above all others, for the first six months.
Finally, we acknowledge that the preparation of the plan coincides with the highest peak yet of the COVID-19 pandemic in New Zealand. We have set out an achievable, important work programme, and we hope that the disruptions of the past few years will fade as 2022 continues.
We welcome your support in this important work.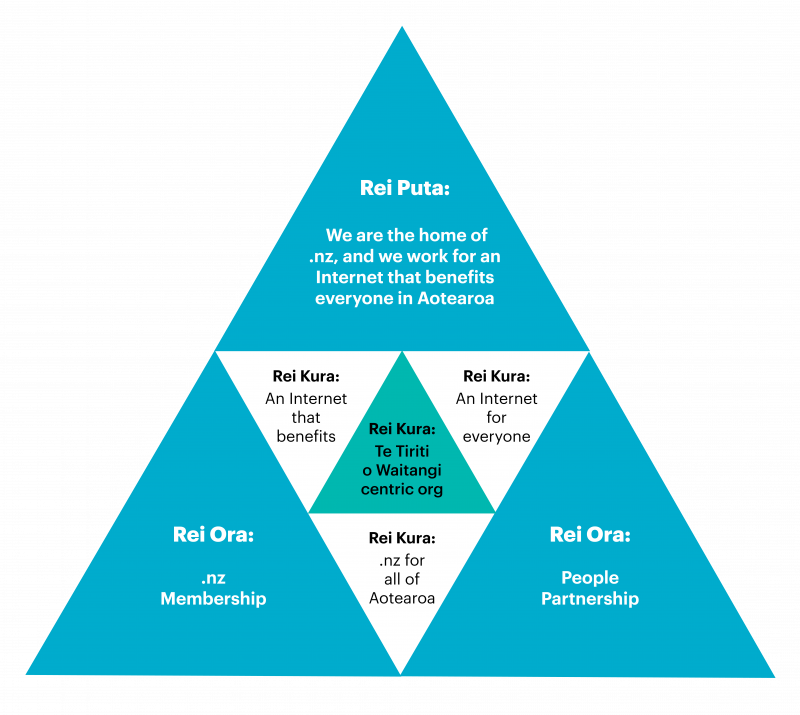 Our strategy utilises Niho Taniwha as a visual metaphor.
Niho Taniwha is a saw-edged pattern of tukutuku panels and in the tāniko weaving on the hems of cloaks. The principal motif that represents the realm of mythology and a chief's lineage from the gods. It also symbolises family houses within the tribe.1
Each element of the Niho Taniwha has specific relevance to our strategic framework.
Rei puta: the teeth of leadership represents our organisation's purpose.
Rei kura: treasured teeth represent our four key areas of focus and action to deliver to that purpose.
Rei ora: teeth of vitality represent the enduring foundations of how we operate, and that we honour these foundations over time in all the work we do.
Rei ora: teeth of vitality
The foundations on which we stand
Our "teeth of vitality" in our strategy are our foundations. These are fundamental characteristics of who we are as an organisation, and things we honour in all the work we do. They imbue a focus and approach in how we operate, behave, and in what the people of Aotearoa can expect from us.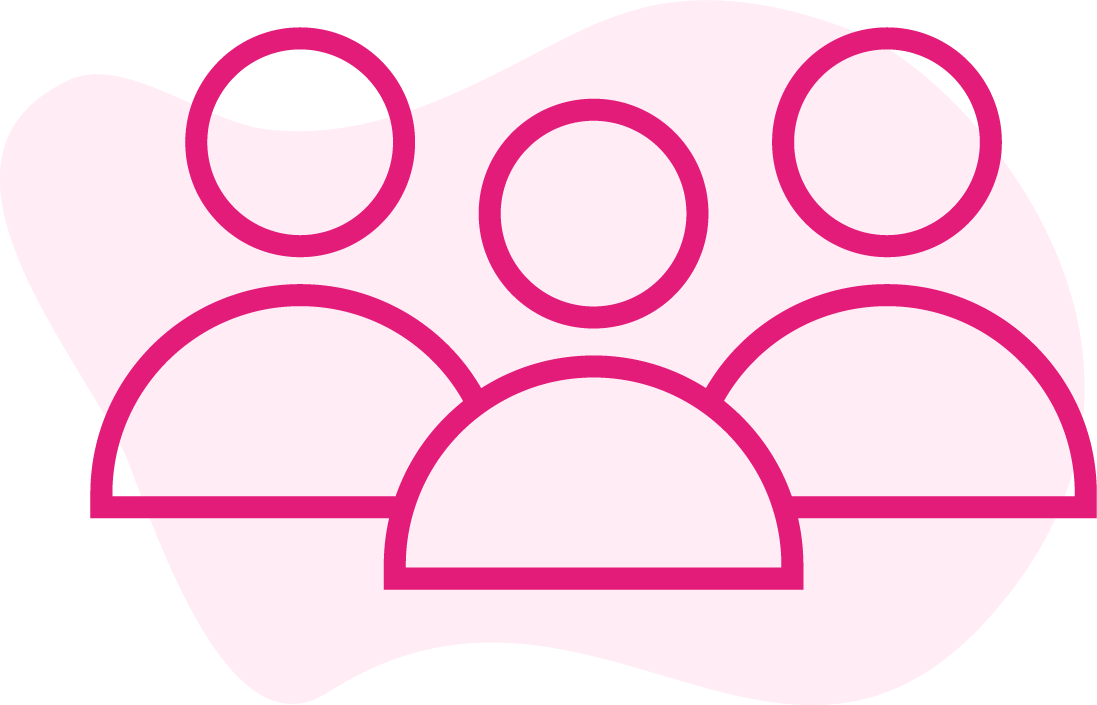 People
We put people and communities, not technologies, at the centre of our work. The goals under each of our rei kura are directed at what will benefit people. We also care about, develop, challenge and empower the people who work for our organisation.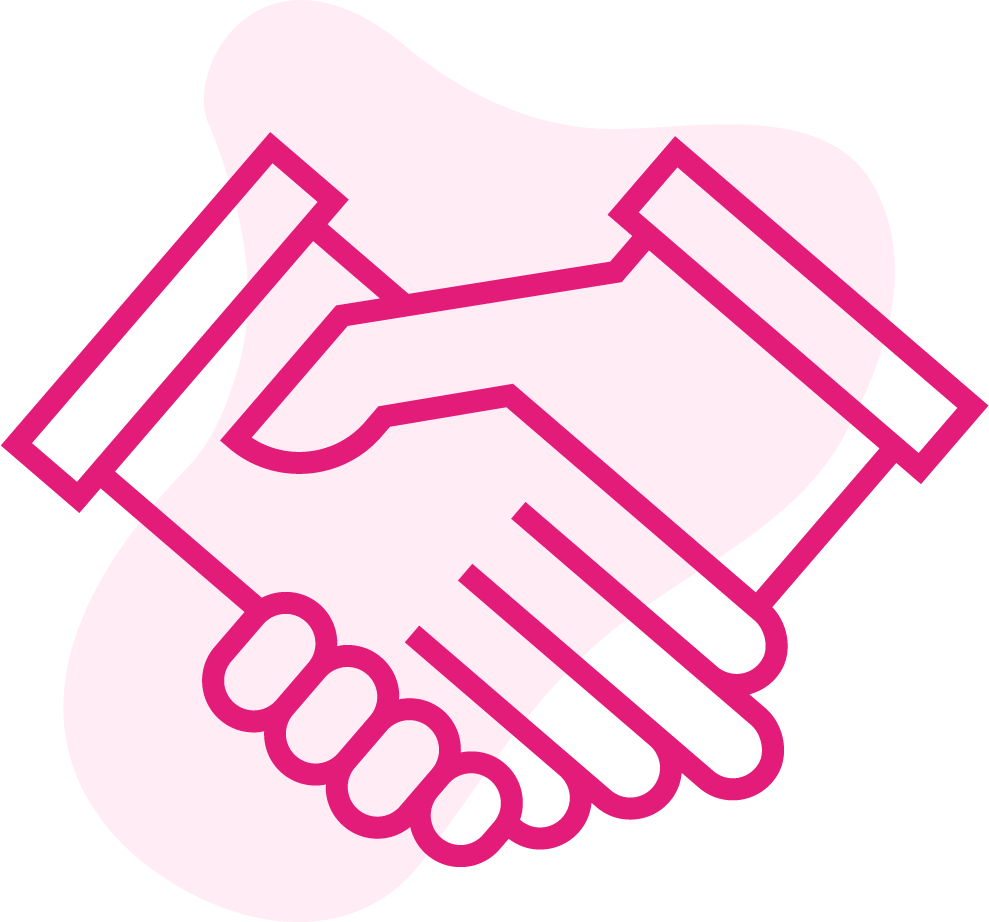 Partnerships
We believe in partnering to achieve our goals and in enabling others — individuals and organisations — to deliver to our purpose in mutually beneficial ways. We believe we will be stronger and have greater impact by working together.
Membership
Membership of our incorporated society is fundamental to who we are and how we were established. They help hold us to account, and select our governors. We honour our members by extending the opportunity to meaningfully intersect with our purpose, work and foundations.
.nz
Our role as manager of the .nz domain name space is foundational to our organisation: it links us to a broad community around the world and demands of us proper connection to communities around Aotearoa. It is also how we earn our income in the world.
Rei kura: .nz for all of Aotearoa
Our strategy
We believe that the .nz domain is New Zealand's home online, and the .nz infrastructure is critical to the performance of the modern New Zealand economy, and wellbeing of New Zealanders and our communities.
We work to increase the availability, utility, security, and trustworthiness of .nz and the domain name system, so that eventually everyone in or connected with Aotearoa has, uses and values .nz. We work to connect it to other uses that enable New Zealanders to do great and amazing things. We ensure that .nz reflects the values and expectations of the New Zealand Internet community.
Our strategic goal: .nz is a good product
.nz and the .nz infrastructure are trusted as reliable, compatible and capable of uses and applications.
Our work in 2022/23
Our work under this rei kura is focused on the transition we are making to a new registry platform, and the opportunity to reconceive of what we aspire to in .nz.
We will confirm new leadership in this area with the new role of General Manager Customer and Product, and also dedicate a strategy process to .nz in June 2022 with that new General Manager participating.
Complete the replacement of the .nz registry
Our primary focus in the first half of the year is successful completion of the .nz registry replacement. This means changing out our vintage Shared Registry System (SRS) for our new InternetNZ Registry System (IRS), delivered in partnership with the Canadian Internet Registration Authority (CIRA). This contributes to the stability and security of the .nz system for all its users, and ensures that we benefit from ongoing development and upgrades alongside other users of CIRA's technology.
This project involves more than half our people across InternetNZ and DNCL in diverse ways.
.nz policy that continues to manage harm through .nz domain names
A very small number of .nz domain names are being used to harass and encourage harm to people in Aotearoa or to share highly objectionable content. These issues are increasing. In light of this increase, and stakeholder concerns with our tightly circumscribed ability to manage these issues, we need to transparently share and discuss our process and policy settings on how we contribute to managing online harm and how we will continue to manage these harms in the .nz space.
The previous independent review of .nz policy most recently and comprehensively considered some of these issues in their work. At that time, we did not see the need to change our settings away from issues of "no concern for use," or to broaden our very circumscribed powers to act in removing content from the .nz domain space. These have been long standing principles in how we manage the .nz domain space, and have been kept because they clearly place responsibility for content management outside of our role.
This means that we must continue to take a systemic approach to these issues, mindful that there are other parties that have the responsibility for managing harms and that we are reliant on instruction from, while aslo recognising the inadequacy of this system in dealing with increasing harm.
.nz is also foundational to who we are and what we are able to accomplish — but risks undermining our strategy and values if we do not continue to consider how to manage these issues. If we are perceived as doing nothing about harmful content that is hosted on .nz websites, then our ability to lead and work in this space could be undermined.
Considering the issues and consulting fulsomely and widely, including with our membership, on appropriate settings is an essential component of undertaking this work.
Te Tiriti o Waitangi centric
Rei kura: a Te Tiriti o Waitangi centric organisation
Our strategy:
We believe that as an organisation of this land, and as guardian of .nz on behalf of Aotearoa, Te Tiriti o Waitangi should be central to how we operate.

We work to be recognised as kaitiaki of .nz, and as a Te Tiriti o Waitangi centric organisation, by developing relationships and working in partnership with Māori, and by embedding Te Ao Māori into our core work.
Our strategic goal: we are a Te Tiriti o Waitangi centric organisation
We change our organisation so that Te Tiriti o Waitangi is central to how we work, infusing our relationships with others, in choosing the work we do and in how we go about that work. Over time, we realise our aspiration of being a kaitiaki for the .nz domain name space.
Our work in 2022/23
To honour this rei kura and progress to achieve this goal, in 2022/23 we will:
Deepen relationships with Māori through engagements and partnerships
We will develop and maintain future and existing relationships with Māori through whānau, hapū, and iwi, and the Māori specialist communities — through the work that we do with the Māori Design Group. We will do this to better involve Māori in delivering mutually beneficial outcomes, and to work with Māori in being the home for .nz, and working for an Internet that benefits everyone in Aotearoa.
By developing this range of relationships, we will strengthen participation of Māori in InternetNZ to better deliver to our rei kura. We will be better able to deliver to Māori aspirations for the Internet in New Zealand, and be better able to incorporate perspectives from Te Ao Māori in the work we do.
Purpose-focused engagement and partnerships with Māori communities is an important, tangible step in building toward our commitment of being a Te Tiriti o Waitangi centric organisation, and in delivering mutually beneficial outcomes to Māori in delivering to our purpose.
Build an environment where Te Ao Māori is treasured and embraced
We will continue our work to ensure that InternetNZ is an organisation where Te Ao Māori is embraced, understood and applied in our mahi. We will do this by continuing to develop the capability of our people to understand Te Tiriti o Waitangi and apply it to our work, to utilise te reo Māori and tikanga to work appropriately in Te Ao Māori.
In addition, the InternetNZ Council committed to conduct a review to examine claims of systemic racism within InternetNZ. InternetNZ acknowledges the following outcomes of our current governance and membership arrangements:
under-participation of Māori in the development of the Internet
under-representation of Māori in InternetNZ membership and governance
under-appreciation of Te Ao Māori, te reo Māori and tikanga in .nz policy and other governance instruments, and in the use of .nz.
InternetNZ has committed to becoming and being a Te Tiriti o Waitangi centric organisation, and therefore wishes to resolve these three acknowledged outcomes of our current governance and membership structures.
Through an independent review, we will invite our staff, members, partners, stakeholders and the reviewer to consider how best InternetNZ may resolve these issues to appropriately centre the organisation and our work in a Te Tiriti o Waitangi context.
An Internet that benefits
Rei kura: an Internet that benefits
Our strategy:
We believe in an Internet that benefits all the people of Aotearoa.
We work towards the empowerment of all New Zealanders to use, create and innovate on the Internet in a way that keeps them and others safe. We work to shape developments affecting the Internet, both domestically and internationally, to make the Internet better for people.
Our strategic goal: responses to harms
InternetNZ drives effective responses to the harms people experience, and the negative impacts on society, from an Internet dominated by big online services.
Our work in 2022/23
Under this rei kura, our focus this year will be to:
Convene and advocate for systemic responses to the challenge of mis- and dis-information in Aotearoa.
There is rising public attention and governmental interest in effective responses to the proliferation, and rising impact, of dis-, mis- and malinformation in the New Zealand information ecosystem. Public concern has been rising on this, as evidenced in InternetNZ market research.
InternetNZ's updated strategy sets out a goal to drive effective responses to online Internet harms to people and society. One of the particular challenges with that is the domination of the Internet by large Internet platforms. Much of the challenge of this problem occurs on these platforms, and in the broader information ecosystem which is a subject of interest.
We are uniquely placed to utilise our experience and developing capabilities and capacity in engagement, Te Ao Māori, convening multi-stakeholder dialogues, and policy, to work alongside government and others to help generate and support a multi-stakeholder approach to these issues, so that we — and others — can begin to better understand perspectives and help develop solutions.
We will convene diverse voices and enable shared dialogue to identify, iterate and implement effective systemic solutions to mis- and disinformation. In doing so we will articulate and push for more effective responses across the New Zealand public environment that support an Internet that is better for people.
Rei kura: an Internet for everyone
Our strategy:
We believe that everyone in Aotearoa should be empowered to make the most of an increasingly digital world, in a way that works for them.
We work to enable all the people of Aotearoa to access and effectively use the Internet to equitably participate in and benefit from our society, democracy and economy.
Our strategic goal: digital equity and inclusion
InternetNZ drives meaningful efforts across Aotearoa to address current problems of digital equity and digital inclusion, with our efforts focused on access (people being able to get online) and accessibility (all people being able to make the most of the digital world).
Our work in 2022/23
For the next financial year our focus will be on:
Working within the DECA framework towards digital equity
The Digital Equity Coalition Aotearoa (DECA) connects and supports the digital inclusion community in Aotearoa. DECA is where the diverse groups and people working to achieve digital equity come together to increase impact and amplify each other's voices.
InternetNZ is proud to be one of the founding parties of DECA arising out of the "five-point plan for digital inclusion" we developed in 2020/21. DECA members include local initiatives making digital participation accessible, individuals passionate about digital inclusion, organisations that deliver digital skills training, and programmes refurbishing laptops. By working within the DECA framework in a coordinated, community-led fashion, we believe we can better enable a range of outcomes in digital equity that will help deliver InternetNZ's strategic goal.
DECA's development has been highly consultative with a series of hui with the digital inclusion community feeding into and honing the kaupapa, model and governance.
In the next financial year, we will continue to support the structure and core mahi of DECAas a community grounded, collaborative ecosystem of parties working towards digital equity.
We will work towards affordable connectivity in collaboration with others and within the framework of DECA through the Affordable Connectivity Constellation.
References:
1. The definition of the niho taniwha is borrowed from the Te Aka Māori Dictionary: https://maoridictionary.co.nz/word/4410